Mouse Guests is an Alexa skill (a term that means "Alexa app") for Disney Parks visitors and fans, offering a hands-free voice assistant to help them explore and make the most of their visits to Disney World and Disneyland.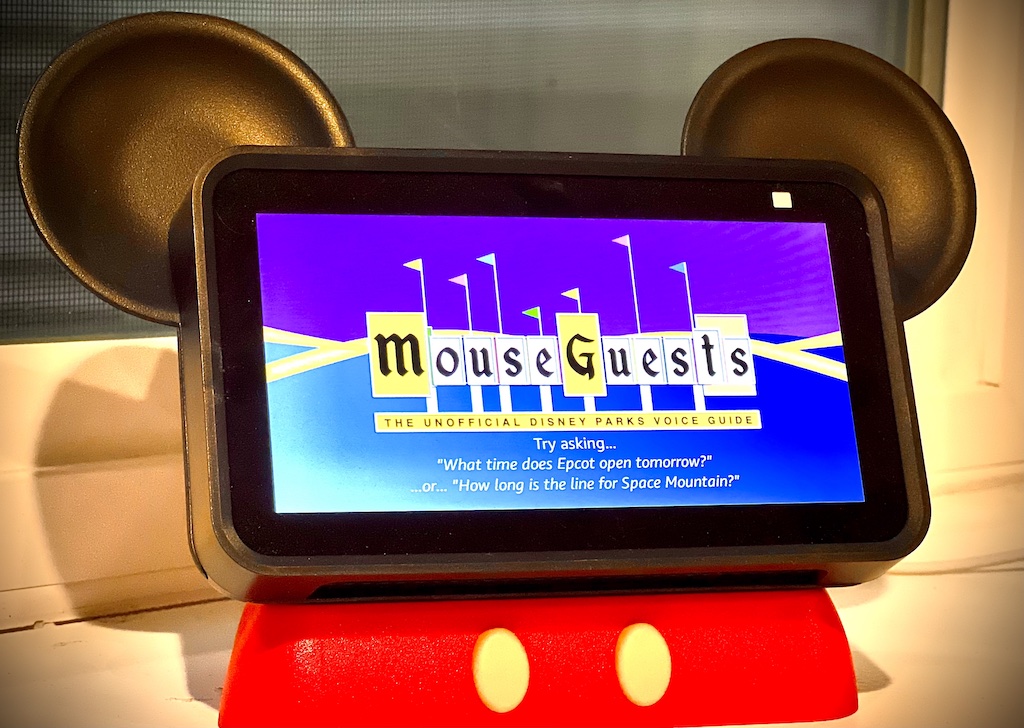 To get started, say "Alexa, open Mouse Guests". Then you can ask several things about Disney Parks, such as:
"What time does Disneyland open tomorrow?" (Or ask about any of the six U.S. Disney theme parks plus Disney World's two water parks. Also, ask about any day over the next couple of weeks for park hours in the near future.)
"How long is the line for Haunted Mansion?" (Or ask about the wait times for any attraction in the six U.S. Disney theme parks).
"Is Lightning Lane available for Rise of the Resistance?" (Or ask Lightning Lane availability for any other attraction.)
If you have a trip planned, you can tell Mouse Guests about it by saying "We're going to Disneyland on March 13th." Then, on any day up to your trip's start, you can ask "When are we going to Disneyland?" (Substitute Disney World for Disneyland if that's where you'll be visiting.)
Mouse Guests is even more helpful if you are using it from within one of Disney's U.S. theme parks or water parks. For example, if you are using a mobile Alexa device such as Echo Buds, Echo Frames, TalkSocket, a Fossil Gen 6 watch, or just using the Alexa app on your phone, you can ask things like…
"Where can I get a churro?"
"Where is the nearest restroom?"
"Where is first aid?"
"Where can I get a bottled water?"
Or ask about your favorite snack or other park services in questions like those above.
What's more, if you are in a Disney park, Mouse Guests will answer questions about attractions specific to your location instead of giving general information for both Disney World and Disneyland. For example, if you are in Epcot and ask about the wait time for Soarin', Mouse Guests will only provide the wait time for Soarin' in Epcot, not for Soarin' in Disney California Adventure.
For location-specific questions, you'll need to grant Mouse Guests permission to your location information. Don't worry if you aren't sure how to do this…Mouse Guests will help you with that if you ask a location-specific question and have not yet granted location permission.
When you're visiting Disney World or Disneyland and you need a little help, just give a little whistle and always let Mouse Guests be your guide!